Chinese leaders, citizens, students and workers across the nation paused for three minutes at 10 a.m. Sunday, a week after the devastating mudslide hit Zhouqu County, in Gannan Tibetan Autonomous Prefecture of Gansu Province. At least 1,239 people have died and 505 are listed as missing.
At the Dongjie Village in Zhouqu, more than 5,000 rescuers and villagers stood still on the debris of mudslide, bowing their heads in commemoration of those killed in the disaster.
A huge black banner written in white words hung in front of the mourners, with wreaths laying around. The banner reads, "Mourning in deep grief for deceased compatriots of the Zhouqu massive mudslide."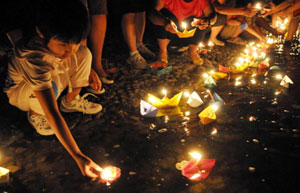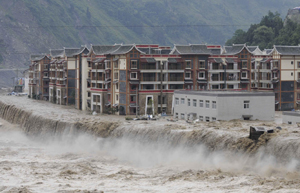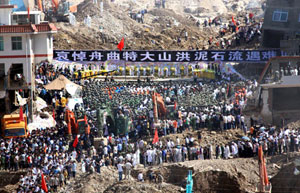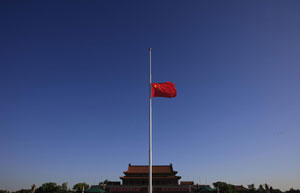 舟曲6岁哥哥抱1岁弟弟穿行废墟
舟曲泥石流后惨状 淤泥遍地大半城区被淹
2006年 乐昌洪灾 2006年7月15日乐昌市特大洪灾情况.