Kinesiology tapping Standard Treatment---PreCut Kinesiology Tape


(2011-09-02 15:48:38)[编辑][删除]

Kinesiology tape is a thin, stretchy, therapeutic tape that can benefit a wide variety of injuries and inflammatory conditions. It is almost identical to human skin in both thickness and elasticity, which allows it to be worn without binding, constricting or restriction of movement.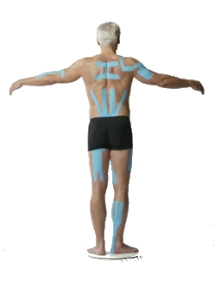 Precut tape

PreCut Kinesiology Tape

Precut Kinesiology Tape at a Glance




Description

Individually packaged, single use applications
Each application is for a specific body part
Currently 16 different applications available
Illustrated step-by-step instructions in every package
Available in 4 colors (black, blue, pink, beige)
Available with regular or Gentle adhesive
$5.99–$9.99
Quantity discounts available
No training required to apply effectively
Packages are light and easy to carry
Quickest application times
Slightly higher cost per application compared to rolls or strips
Those wishing to experience the benefits of kinesiology taping, but have no experience or training
Health professionals looking to save time in clinical appointments
Precut kinesiology tape is ideal for people who want to apply their own kinesiology tape, but don't have any training or experience. Each single-use application comes with illustrated, step-by-step instructions. In addition, there is an instructional video available for each application. It's a good idea to order several applications, so you always have more on hand for additional tapings. Quantity discounts are available, beginning at 12 units, and can include any assortment of SpiderTech precut applications.
Many busy health professionals also prefer using precut kinesiology tape, because it reduces application time by up to 80%, compared to designing, cutting and applying kinesiology tape from rolls.

What Conditions can Kinesiology Taping be Used For?

| | |
| --- | --- |
| Joint Pain | Arthritis, bursitis, lupus, degenerative joints, poorly aligned joints, joint instability |
| Muscle Pain | Torn muscles, pulled/strained muscles, tight muscles, fibromyalgia, muscle spasms, muscle cramps, calf strain, pulled hamstring, groin strain, strained gluteals, abdominal strain |
| Soft Tissue Injuries | Tendinitis, tennis elbow (lateral epicondylitis), golfers elbow (medial epicondylitis), patellar tendinitis, Achilles tendinitis, whiplash, back strain, neck strain, rotator cuff injuries, iliotibial band syndrome (ITB) |
| Joint Injuries | Joint sprains, dislocated joints, sprained ankle, sprained knee, sprained wrist, sprained elbow, degenerated meniscus, torn cartilage, unstable joints, joint hypermobility |
| Overuse Injuries | Carpal tunnel, repetitive stress |